-20%

Loyalty
BD Coins : 5995 7495
(Get 20% Off with BD Coins )
Zoom the image with mouse
Vitrax 5.3 Inch Smart Simple Silent LED Digital Alarm Clock Date Temp Display - Hot Pink
BD Coins : 5995
7495
(Get 20% Off with BD Coins )
Buy with BD Coins
1. Click on Buy with BD coins
2. Enter the value of BD coins and click on Redeem.
3. Get your coupon code
4. Apply the coupon code at checkout
customers are viewing this product
5.3 Inch Smart Simple Silent LED Digital Alarm Clock Date Temp Display - Hot Pink.
Description:
Move the button in the back to set the set time, date, alarm, and snooze intervals. Sensor automatically comes on when it's dark around, because it's light-activated. It's soft, making you sleep easily or see time from a distance hands free.
Feature:
Big LCD Screen, Energy Saving, Bold Typeface, Clear and Comfortable Visual Sense Technology, Make Sure You Can See Exactly the Time Without Troubling Sleep.
Smart Light, Built in Light Sensor, LCD Back light Turns on Automatically When the Room or Circumstance Becomes Dark. 
Alarm Sound Stronger Gradually, Softly Wake You Up From Dreams, Special Designed Snooze Function, When You Turn Down The Alarm, It Will Ring Again 5 Minutes Later.
Adjustable Time and Date Format, Circumstance Temperature Monitoring Function, Make Yourself a Easy Life.
Specifications:
1. Power Source: 3 AAA Battery(Not included)
2. Size: 13.6*7.8*4.6cm
3. Weight: 180g
4. Colour: hot pink/green/blue
5. Package: retail package
Notice:
1. No Radio Function.
2. Zinc-manganese dry battery is suggested.
Package Includes:
1 pcs x LED Alarm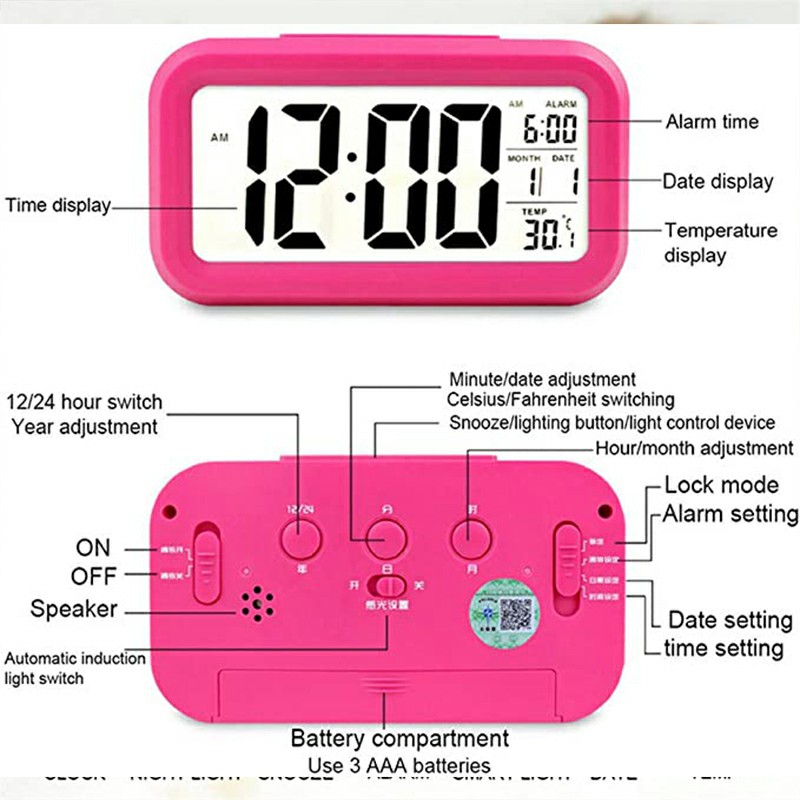 Return / Exchange:
If the product received is damaged / incorrect, the seller will bear the shipping charges.
The same product will be sent against the defective product.
---
Refund:
If the refund request is initiated within 15 days of receiving the order, the refund will be deposited within 5-7 working days.
If the order is cancelled from the sellers' end for any reason, the refund will be processed without any timeline and the amount will be refunded within 5-7 working days.
---
Delivery:
Products are shipped by the individual British D'sire sellers, who are located across the United Kingdom.
The delivery timeline and shipping prices may vary depending on the seller's location and the selected delivery method.
---